In a sudden move, early Tuesday morning (UTC time) the crypto market rallied - the absolute majority of top 100 coins by market capitalization are in green now.
Bitcoin almost touched USD 6,000, reaching USD 5,997, before correcting lower to USD 5,953 (04:47 UTC). The most popular coin is now up by more than 4% in the past 24 hours. Meanwhile, Ethereum registered the biggest gains among the top 10 coins by market capitalization, having increased by more than 10%, to USD 179.
On Monday, media speculated that the U.S. Commodity Futures Trading Commission (CFTC) might approve Ethereum futures trading, "if it ticks all the boxes," while U.S.-based mutual fund giant Fidelity Investments will reportedly start offering Bitcoin trading in the next few weeks.
At pixel time, among the top 10 coins, only Binance Coin is in red (-1.45%).
Tezos rallied more than 12%, and Chainlink is up by more than 16%.
Total market capitalization increased by almost 5%, to USD 189.6 billion.
Top 10 coins:
(04:47 UTC)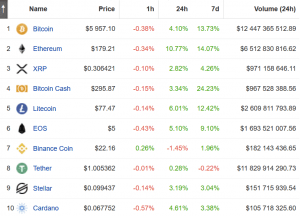 Source: coinpaprika.com
Meanwhile, recently, New York-based research and consulting boutique specializing in the digital asset market Delphi Digital once again confirmed their previous claims the Bitcoin bottom occurred in the first quarter this year. Also, a recent poll of the market participants also showed that majority believe the bottom is already here.
Moreover, Adamant Capital, a Bitcoin alpha hedge fund, has recently published a report on what could drive Bitcoin's price going forward, regardless of the direction it might take. "While lower prices are still possible, Bitcoin's fundamentals are gaining momentum. Embraced by Millennials, its ecosystem is developing at rapid clip, both as a decentralized bottom-up disruptive technology, and as an uncorrelated, highly liquid financial asset for institutional portfolios around the world," the fund said.
Other recent attempts to assess Bitcoin: