Bitcoin price surged higher and broke the USD 5,500 and 5,650 resistances.
Ethereum is climbing towards USD 165 and ripple is still consolidating above USD 0.300.
ABBC coin is up close to 20% and ATOM rallied 10% again today.

Yesterday, we saw the start of an upward move in bitcoin above the USD 5,350 resistance. Recently, BTC buyers gained bullish momentum and broke the USD 5,500 and USD 5,650 resistance levels. It is up close to 5% (08:10 UTC) and already traded to a new 2019 high near USD 5,700. However, most major altcoins failed to follow bitcoin and mostly traded in a tiny range. Ethereum price is up around 1% and it could test the USD 165 resistance. Ripple price is clearly stuck in a range above the USD 0.300 and USD 0.302 support levels. Overall, bitcoin's market dominance is on the rise.

Total market capitalization

Source: coinpaprika.com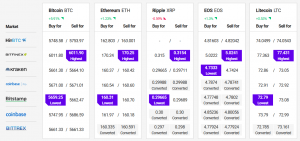 Bitcoin price
There is a strong uptrend in place for bitcoin price above the USD 5,350 and USD 5,400 levels. BTC gained bullish momentum in the past two sessions and gained more than 4%. It broke the USD 5,500 and USD 5,650 resistance levels to trade to a new 2019 high. The price tested the USD 5,700 level and it seems like the current upward move is far from over.
An immediate resistance above USD 5,700 is at USD 5,740. A clear break above the USD 5,740 level may push the price towards the USD 5,800 level. On the downside, there are many supports near the USD 5,650 and USD 5,600 levels.
Ethereum price
Ethereum price is still holding the key USD 160 support level and it is currently moving higher towards the USD 164 and USD 165 resistance levels. A clear break above the USD 165 resistance may open the doors for more gains above USD 170.
If ETH/USD fails to move above USD 165, there could be a fresh decline towards the USD 160 or USD 158 support level in the near term.
Bitcoin cash, eos and ripple price
Bitcoin cash price climbed above the USD 270 resistance and recently tested the USD 278 - USD 280 zone. It seems like BCH/USD is facing a strong resistance near USD 280. It is currently down 2.5% and trading near the USD 272 level. The next key supports on the downside are near USD 270 and USD 265.
EOS is up around 1.5% and it settled above the USD 4.80 level. It is currently trading near the USD 4.85 level and it may continue to grind higher towards the USD 4.90 or USD 4.92 level.
Ripple price remained confined in a range above the USD 0.300 and USD 0.302 support levels. XRP/USD seems to be facing a strong resistance near USD 0.306, above which it could start a decent rise to USD 0.310 or USD 0.312.
Other altcoins market today
In the past two sessions, a few small cap altcoins gained traction and moved up more than 5%, including ABBC, ATOM, CRO, XTZ, BNB,
ETN, QBIT, FCT, and THR. Out of these, ABBC is up around 20% and ATOM climbed again today nearly 9%.
Overall, bitcoin is clearly dominating and it may continue to rise towards the USD 5,740 or USD 5,800 resistance level.